The premier guide to Ice Skating in the Adirondacks
featuring valuable tips and techniques and essential
information.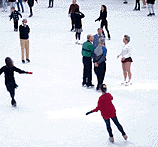 Tips For Better Skating
Every skate blade has an inside and outside edge and a groove between the edges, called the "flat" of the blade.
The sole function of the flat of the blade is to glide straight forward and straight backward. To be on the flat you must stand so that the skate is upright (blade perpendicular to the ice). You will be gliding equally on both edges and in a straight line.
Edges have multiple functions.
Blade edges are designed to cut into the ice. Because blades are rockered (have a radius) they are also designed to curve. Therefore, edges have two functions:
To create a grip into the ice and set up the possibility for a powerful push, and
To travel a curved path.
The pushing skate is the one that must grip the ice to set up a powerful push. The gliding (directional) skate is the one that must be on a strong edge so that you can travel tight curves. These two functions are totally separate and distinct from one another. One skate digs in to push while the other digs in to travel a curve or circle.
Before making the edges work to your best advantage you must first know what is, and then how to get onto, a functional edge.
A functional edge means that the edge engaging the ice forms a 45 degree angle to the ice. Regardless of whether you're using the inside or outside edge, or skating forward or backward, edges (on both the pushing skate and curving skate) must be leaned so that the boots and blades and ankles and knees form this angle.
Remember - one skate (i.e. left) digs in to push while the other skate (i.e. right) digs in to travel a curve or circle. It's extremely important to learn first how to and then practice the art of leaning your skates, ankles and knees while maintaining excellent balance. You may take several falls in the process of mastering this, so be sure to wear your protective hockey gear.
When you master the edges you'll be amazed at how much faster you'll skate and how much more secure you'll be on the ice.



Olympic History in Lake Placid

Ice Hockey Information Lake Placid Olympic Arena is best known for the USA Hockey upset of the Soviet Union in the 1980 Olympic Winter Games. This game became known as the so-called "Miracle on Ice." Since that time the Olympic Center continues to be known as a hockey mecca hosting countless local and high school leagues, CanAm tournaments, USA Men's and Women's Hockey training camps, international events and the annual ECAC Division I Men'sChampionships. The Olympic Center is also home for the USA Women's Hockey National Team ( the silver medal winners in the 2002 Winter Olympic Games in Salt Lake City) and the annual host to NHL NY Islanders pre-season training camp.

Lake Placid Sheffield Speed Skating Oval/Winter Rates and Information
This is where Eric Heiden made Olympic history in 1980 by capturing an unprecedented five gold medals. The public is allowed to skate on the very same surface where Heiden performed. Numerous national and North American races are held here yearly.


• Season: Early December to mid-March
• Please Call: 518-523-1655 for up to date information


Lake Placid Olympic Center Skating/Winter Rates and Information

• Please Call: 518-523-1655 public skating schedules
• Season: Late November - April


Olympic Center Skating/Summer Rates and Information

• Times: Monday thru Friday from 8 - 9:30pm
• Season: Starts June 24


Saturday Evening Ice Shows/Summer Rates and Information
During many Saturday nights in summer, enjoy ice shows, featuring local, national, and international skaters.

• Season: June 24 - August 26
• Please call: 518-523-1655/523-3330 for tickets and up to date information


AUSABLE - PLATTSBURGH AREA, NY


Lake City Stars Arena - 90 Sharron Ave, Plattsburgh - (518) 561-7672

SUNY Plattsburgh Field House - 518-564-3060

Rouses Point Rink - 518-297-5502

There is outdoor skating available at West End Park, Lake Champlain Youth Commission Skating Rink, and Bailey Ave. Park.


GLENS FALLS , NY

Glens Falls Recreation – 1 Fire Rd Glens Falls, NY 12804 (518) 761-3855



LAKE GEORGE, NY

Lake George Forum- (518) 668 2200
Ice skating daily from late October - mid March in the winter, July and August in the summer; also featuring bumper cars on ice.



LAKE PLACID, NY

Lake Placid Olympic Arena - 518-584-3325

There is outdoor speed skating rink at the facilities

NEWCOMB, NY

Newcomb Skating Rink Main Street - 518-582-4901






WESTPORT, NY

Outdoor Ice Skating and Sledding Ballard Park, Westport 518-962-8383

SARANAC LAKE, NY

Saranac Lake Civic Center Ampersand Avenue- 518-891-3800



SARATOGA SPRINGS, NY


Saratoga Springs Ice Rink
Weibel Avenue

Phone: (518) 583-3462 - Family Skate and Open Skate varies.



SARATOGA SPA STATE PARK
(Outdoor) 584-2000

CLIFTON COMMONS INDOOR ICE RINK
Clifton Park 383-5440



---
View topo maps of the Adirondack High Peaks




View the latest weather information for the entire Adirondack Region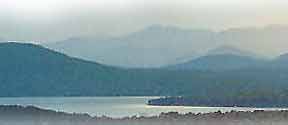 View the latest weather information for Vermont's Champlain Valley
---
ICE RINKS IN NEW YORK STATE


Achilles Rink – Union College, Schenectady (518) 388-6134
Albany Academy Field House – Albany (518) 465-1461
Albany County Facility – Albany Shaker Rd, Albany (518) 452-7396
Alexandria Bay Municipal Arena, Alexandria Bay (315) 482-9360
Allen Park Ice Rink – Jamestown (716) 483-0614
Allyn Arena – Jordan St., Skaneateles (315) 685-7757
Amherst Pepsi Center – Williamsville
Audobon Rink - Williamsville (716) 631-7132
Batavia City Rink - Batavia (716) 343-8180
Beaver Dam Winter Sports Club – Locust Valley (516) 671-1923
B.I.G. Arena – Delaware Ave., Delmar (518) 439-2211
Blackflies Hockey Rink – Irving Rd., Scotia (518) 393-3762
Brewster Ice Irena – Fields Lane, Brewster (914) 279-2229
Brighton Arena –251 Brompton Rd, Tonawanda (716) 693-3505
Broome County Arena – Binghamton (607) 778-1527
Bud Bakewell Arena - Riverside Park, Buffalo (716) 877-9306
Cantiague Park – West John St., Hicksville (516) 571-5601
Canton Recreation Pavilion – Outer Lincoln St., Canton (315) 386-3992
Casey Park Arena – N. Division St, Auburn (315) 253-4247
Cazenovia Park Rink – Cazenovia & Abbott Rd., Buffalo (716) 825-9305
Cheektowaga Recreation Center – 2600 Harlem Rd. (716) 897-7218
Cheel Arena – Clarkson University
Clayton Recreation Park – East Line Rd, Clayton (315) 686-4310
Clearfield Recreation Park – Williamsville (716) 689-1418
Clifton-Fine Arena – Star Lake (315) 848-2579
Clifton Park Arena – Clifton Commons, Clifton Park (518) 383-5440
Clinton Arena – Kirkland Ave, Clinton (315) 853-5617
Clove Lake War Memorial – Staten Island (718) 720-1014
Corinth Rink – River St., Corinth
Crete Center – Cumberland Head Corners, Plattsburgh (518) 563-4431
Crisafulli (Fort) – E. Ninth St., Oswego (315) 343-4054
Dann Memorial, Nichols School – Amherst St., Buffalo (716) 875-8212
Depew Ice Pavilion – Gold St., Depew (716) 685-4910
Dix Hills Park Ice Rink – Vanderbilt Pkwy, Dix Hills (631) 462-5883
Donald Martin Civic Center – Pine St., Waddington
Ebersole Ice Rink – Lake St, White Plains (914) 422-1390
Edward J. Murray Memorial – Tuckahoe Rd., Yonkers (914) 779-5249
Elmira College Domes (Murray Athletic Center) (607) 739-8768
Empire Sports Arena – Rochester (716) 760-7825
ESL Sports Centre – Brighton-Henretta Townline Rd., Rochester (716) 424-4625
Evarts Rink – Jay St, Katonah (914) 232-3618
Flushing Worlds Fair Rink – Flushing Meadows (718) 699-4215
Forest Park Pavilion – Lowville (315) 376-8333
Frear Park Ice Facility – Park Blvd & Lavin Ct., Troy (518) 266-0023
Freeport Recreation Center – Merrick Rd., Freeport (516) 377-2313
Fulton Community Center – West Broadway, Fulton (315) 598-5379
Genesee Valley Rink – Rochester (716) 586-0080
Geneva Recreation Center – 666 S. Exchange St., Geneva (315) 789-5005
Glens Falls Recreation – Fire Rd, Glens Falls (518) 743-0901
Grippen Park Ice – Endicott (607) 748-6323
Greater Canandaigua Civic Center – Canandaigua (716) 396-7230
Haldane Memorial Building – Maple Ave., Pulaski (315) 298-3015
Hamburg Town Rink – Lake View Rd., Hamburg (716) 649-8771
Harvey School – Rt. 22, Katonah (914) 232-3618
Hockey Outlet – North Tonawanda (716) 695-1055
Holiday Twin Rinks – 3465 Broadway, Cheektowaga (716) 685-3660
Holleder Rink – West Point Military Academy (914) 938-4481
Hommocks Park Ice Rink – Mamaroneck (914) 834-3164
Huntington Winter Club – Huntington (631) 421-3889
Hyde Park Ice Pavilion – Robbins Dr., Niagara Falls (716) 278-8366
Ice Hutch Rink – 600 Garden Ave., Mount Vernon (914) 669-6787
Iceland – Hillside Ave, New Hyde Park (516) 746-1100
Ice Time Sports Complex – Newburgh (914) 567-0342
Iceworks – Underhill Rd., Syosset (516) 496-2277
Kennedy Arena – Rome (315) 339-7768
Knickerbacker Arena – 8th Ave. & 103rd St., Troy (518) 235-7761
Lafayette Arena – 156 Tacoma, N. Buffalo (716) 875-1966
Lake City Stars Arena – Sharron Ave., Plattsburgh (518) 561-7672
Lakeshore Hockey Arena – 123 Ling Rd., Rochester (716) 865-2800
Leisure Rinks – Weiss Rd., Orchard Park (716) 675-8992
Lewis County Rink – Fairgrounds (315) 376-3270
Lincoln Arena – Parker & Decatur Blvd., Kenmore (716) 833-7757
Long Beach Arena – W. Bay Dr., Long Beach (516) 431-6500
Louisville Community Center – Arena Dr., Louisville (315) 769-8206
Lynah Rink – Cornell University, Ithaca
Lysander Radission Rink – Baldwinsville (315) 635-1555
Massena Arena – 185 Harte Haven Plaza, Massena (315) 769-3161
Maxy Hall – Potsdam State College
McCann Ice Arena – Poughkeepsie (914) 454-5800
Meachem Rink – W. Seneca Tpk., Syracuse (315) 492-0179
Mid Hudson Civic Center – Market St., Poughkeepsie (914) 454-5800
Murray Athletic Center – Elmira College, Horseheads (607) 739-8768
Nassau Memorial Coliseum – Uniondale (516) 794-9100
Newbridge Road Park – Bellmore (516) 783-6181
New Hartford Recreation Center (315) 724-0600
New York State Fair Coliseum – Syracuse (315) 487-6422
Niagara University Ice Complex (716) 286-8784
Norfolk Community Center – Clinton St., Norfolk (315) 384-3200
North Buffalo Ice Rink – Shoreham Blvd., Buffalo (716) 873-8481
Ogdensburg Golden Dome – State St., Ogdensburg (315) 393-5320
Olympic Center (ORDA) – Main St., Lake Placid (518) 523-1655
Palisades Mall – West Nyack (914) 353-4855
Park Ice Arena – SUNY Cortland (607) 753-4961
Park St. Rink – Ogdensburg
Parkwood Ice Rink – 65 Arrandale Ave, Great Neck (516) 487-2976
Pine St. Arena - Potsdam (315) 265-5653
Playland – Rye (914) 967-7206
Polar Cap Ice Rink – Kattelville Rd., Binghamton (607) 648-9888
Port Washington Skating Academy – Port Washington (516) 484-6800
Riverside Ice Rink – Niagara St., Buffalo (716) 877-9306
Rouses Point Rink – Rouses Point (518) 297-6776
Royal Rink – Evans St., Batavia (716) 344-3991
Rye Country Day Rink – Cedar St., Rye (914) 967-5876
St. Lawrence Arena – St. Lawrence Center Mall
Salmon River Central School – Fort Covington (518) 358-9904
Saranac Lake Civic Center – Ampersand Ave., Saranac Lake (518) 891-3800
Saratoga Springs – Weibel Ave., Saratoga Springs (518) 583-3744
Schenectady County Recreation Facility – Scotia (518) 384-0538
Scottsville Ice Arena – Lakeshore (716) 889-1817
Shove Park – Slawson Dr., Camillus (315) 487-5085
Skating Institute of Rochester – 1 Boys Club Pl., Rochester (716) 325-2216
Sky Rink at Chelsea Piers – NYC (212) 336-6100
Sports Plus – Lake Grove (631) 737-5481
Sports Plus – New Rochelle (914) 637-7575
Starr Rink – Colgate University (315) 824-1000
State Street Arena – Malone (518) 483-0680
Staten Island Skating Pavilion – Arthur Kill Rd., Staten Island (718) 948-4800
Steele Hall – SUNY Fredonia (716) 673-3233
SUNY Brockport Ice Arena – Tuttle Building, Brockport (716) 395-2244
SUNY Cortland Alumni Arena – Cortland (607) 753-4961
SUNY Morrisville – Madison Rd., Morrisville (315) 684-6425
SUNY Plattsburgh Field House – Ruger St., Plattsburgh (518) 564-3060
Superior Ice Rink – Indian Head Rd., Kings Park (631) 269-3900
The Rink – Ithaca (607) 277-7465
The Rinx – Terry Rd., Hauppauge (631) 436-6020
Thomas Creek Arena – Lyndon Rd., Fairport (716) 223-3940
Timothy J. Burvid – Abbot Rd., Buffalo (716) 825-9305
Town of Amherst – Amherst Manor Rd., Williamsville (716) 631-7132
Town of Clayton Recreation Park – Clayton (315) 686-4310
Town of West Seneca Rink – Union Rd., W. Seneca (716) 675-1831
Tri-Town Community Center – Rt. 11, Brasher Falls (315) 389-4576
Tupper Lake Memorial Civic Center – Tupper Lake (518) 359-2531
Utica Memorial Auditorium – Oriskany St. West, Utica
Veterans Memorial Ice Rink – Watervliet (518) 270-3824
Waddington Arena – Maple St., Waddington
Watertown Ice Arena – Watertown (315) 785-7836
Watervliet Rink – 2nd Ave, Watervliet (518) 270-3824
Webster Community Rink – Publishers Pkwy, Webster (716) 787-3530
Weibel Ave & Vernon Arena – Saratoga Springs (518) 583-3744
Westchester Skating Academy – Fairview Park Dr., Elmsford (914) 347-8232
West Seneca Recreation Center – Union Rd.., W. Seneca (716) 675-1836
Whitestown Community Center – Whitesboro
Wilson Ice Arena – SUNY Geneseo (716) 245-5339
HOW TO MAKE AN OUTDOOR ICE RINK


1) Select a flat area which is as sheltered as much as possible from both sun and wind. Building ice over a nice lawn will make not such a nice lawn, so it's best to pick an area that you don't mind turning yellow (more than usual) for the first part of the spring.

2) Construct a border of wood, such as 2x4 lumber, or use mounds of earth or snow to form a barrier and contain the water. Flatten and compact the snow in the rink area. Make sure you leave room for snow to be shoveled off the rink later on.
3) Sprinkle water around the barrier first so that it becomes frozen solid. Do *not* flood. The main idea is to create an "ice bathtub" where you can pour water without it running away from you.
4) Then sprinkle water on the snow on the rink. An oscillating lawn sprinkler works great and will save your hands from freezing! Put on just enough to make a slush -- this is an important step. If you don't use enough water then you just get ice on top of snow. If you use too much water the snow will melt and run off.
5) Once your base has been created, water it well on cold nights and allow it to freeze between waterings. Continue until you've got an inch or two of flat, solid ice. Air pockets should be broken and filled with "slush" to patch them (avoids broken ankles).
6) After the rink has been skated on and the skaters have caused snow to form, scrape off the snow before adding any more water.

Skiing | X-Country | Snowboarding | Snowmobiling | Dog Sledding | Ice Fishing
Ice Climbing | Winter Camping | Ice Skating | Snowshoeing | Bobsledding
Luge | Winter Horseback Riding

Calendar of Events |  Vacation Rentals |  Real Estate |  Lodging & Accomodations
Dining |  Summer Sports |  Winter Sports |  Arts & Crafts |  Attractions
Shopping |  Adirondack Kids |  Adirondack Lifestyles |  Education
Business Profiles |  Community Links |  Business Directory |  Classifieds
Adirondack History |  Bulletin Board |  Chat Room |  Guestbook Comments |  Return Home
BACK TO THE TOP


43 Broadway
Saranac Lake, New York 12983
Phone: 518-891-3745    Fax: 518-891-3768
E-Mail: Adirondacks.com

This website is owned and operated by
adirondacks.com internet publishing group.
For advertising and editorial content,
please contact Rob Grant;
adirondacks.com reserves the right to reject,
modify or cancel any advertising at its sole discretion.
© Adirondacks.com - all rights reserved
New York State & Vermont
Travel Guide Network
We invite you to visit one of the largest and most comprehensive award winning travel networks in New York State
& neighboring Vermont .
Choose your visitor guide by clicking on any one of the links below!
Adirondacks.com | AdirondackRealEstate.com | AdirondackRentals.com |GlensFalls.com | LakePlacidNY.com | SaranacLakeNewYork.com | Saratoga-NewYork.com | Upstate-NewYork.com | LakeChamplainValley.com | Burlington-Vermont.com | ThousandIslandsNewYork.com | MaloneNY.com | NorthCreekNY.com | WestportNewYork.com | CliftonParkNewYork.com |
Albany-New-York.com | Troy-NewYork.com | Utica-NewYork.com | Rome-NewYork.com | WarrensburgNewYork.com | Potsdam-NewYork.com | AdirondackHighPeaks.com | Canton-NewYork.com | Massena-NewYork.com | Plattsburgh-NewYork.com | LakePlacid-NewYork.com | GlensFalls.net | SchroonLakeNewYork.com | KeeneNY.com | KeeneValleyNY.com | ChestertownNY.com | GlensFallsNY.com | TiconderogaNewYork.com | TheChamplainValley.com | Champlain-Valley.com | ChamplainValleyRegion.com |
ChamplainValley.net | SaratogaSpringsRegion.com | Watertown-NewYork.com |
SaranacLakeNY.com | HighPeaksWilderness.com | VisitUpStateNewYork.com | VermontTravelGuides.com | Burlington-Vermont.com | StAlbans-Vermont.com | Rutland-Vermont.com | Middlebury-Vermont.com | Montpelier-Vermont.com |
Bennington-Vermont.com | Brattleboro-Vermont.com | NewYorkSkiing.com |
New YorkHiking.com | AdirondackHiking.com | AdirondackFishing.com |
AdirondackCamping.com | AdirondackSkiing.com | LakePlacidSports.com | LakePlacidSkiing.com | SaratogaSpringsRegion.com | SaratogaInns.com
| SaratogaHotels.com | SaratogaAttractions.com | SaratogaSpringsDining.com |
SaratogaSpringsLodging.com | SaratogaSpringsRestaurants.com |
SaratogaDirectory.Com | LakePlacidNY.com | LakePlacidHotels.com |
LakePlacidShopping.com | LakePlacidRestaurants.com | LakePlacidInns.com |
LakePlacidDining.com | LakePlacidResorts.com | LakePlacidSports.com | LakePlacidSkiing.com | LakePlacidHockey.com | LakePlacidSchools.com | OldForge-NewYork.com | AdirondackRestaurants.com
AdirondackWeddings.com | AdirondackCamping.com | AdirondackFishing.com |
AdirondackShopping.com | AdirondackLodging.com | AdirondackHotels.com
| AdirondackDining.com | AdirondackSkiing.com | AdirondackWeather.com
| AdirondackCrafts.com | VillageofLakeGeorge.com | DiscoverLakeGeorge.com |
Lake-George-NewYork.com | LakeGeorgeClassifieds
We also invite you to visit our comprehensive network of Florida Travel Web Sites:
Florida Visitor Guides.com

www.Daytona Visitor Guide.com
www.Daytona Travel Guide.com
www.Daytona Beach Visitor Guide.com
www.Visit Daytona Florida.com
www.New Smyrna Beach Guide.com
www.New Smyrna Hotels.com
www.New Smyrna Rentals.com
www.New Smyrna Beach Lodging.com
www.New Smyrna Beach Restaurants.com
www.New Smyrna Beach Dining.com
www.New Smyrna Beach Shopping.com
www.New Smyrna Beach Weather.com
www.New Smyrna Florida.com
www.New-Smyrna-Beach-Florida.com
Anna Maria Island Guide.com
Anna Maria FL.com
Anna-Maria-Island-Florida.com
Anna-Maria-Island-Rentals.com
Anna-Maria-Island-Real-Estate.com
Anna Maria MLS.com
Anna Maria Island Beach Rentals.com
Anna Maria Island Photos.com
Anna Maria Property.com
Anna Maria Island MLS.com
Anna Maria Island Real Estate Agents.com