The Premier Guide to Adirondack Snowmobiling


Welcome to the largest online snowmobiling guide
and resource center for the Adirondack Region and upstate NY!

The Adirondacks have hundreds of miles of groomed and backcountry riding trails that will give you the thrill of a lifetime! With all the well-known Adirondack hospitality and some of the best trail systems in the east, you'll be guaranteed to meet plenty of other snowmobile lovers. So, come ride the deep snow through pristine backcountry areas, mountains, and towns and hamlets rich in history. Extensive grooming, sparkling snow and welcoming accommodations make the Adirondacks the east's number one destination for snowmobilers.



Information Center

The information above provided by NY State Parks




Adirondack Snowmobile Adventure Tours & Rentals


Farmhouse Snowmobiling - Snowmobile Rentals
Lake Placid, NY- (518) 327-3429
Join us for a guided tour through open farm fields with the best views around in the Adirondacks. Snowmobile rentals in the Lake Placid & Saranac Lake area. Bring your sense of adventure, and your camera, on a guided tour through open farm fields, forest trails, and the state snowmobile trail system.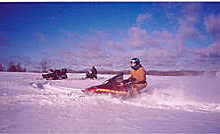 Lake Placid Snowmobile Tours
Join us for an unforgettable winter adventure in the heart of the Adirondack Park...
Lake Placid, NY- (518) 523-3415
TOURS ARE GOING OUT DAILY ALL WINTER LONG!!! Come ride with us on a safe and fun expedition into the Adirondacks. Enjoy expanded access to the natural beauty of the park from the comfort of a snowmobile while our experienced guides show all that there is to discover in this unique region. CALL NOW TO GET OFF THE BEATEN PATH AND MAKE TRACKS TODAY!!!


Beautiful 'four seasons' waterfront compound ideal for family reunions, weddings, snow mobile groups & corporate retreats!



Remarkable setting on one of the most beautiful lakes
in the Adirondacks!
Perfect for large groups up to 40 people!

Attention Snow Mobilers
Book your reservations now for the upcoming winter season!
This facility is ideal for large or small snowmobile clubs & groups. Located directly on a main Adirondack snowmobile route connecting to hundreds of miles of snowmobile trails throughout Upstate New York.
click here

Trail Markers & Signs | Emergencies | Navigation | Group Riding
Theft Prevention | Trail Etiquette | Riding Skills | Snow Conditions
Adverse Weather Conditions | Ice Riding | Night Riding | Maps