LEWIS COUNTY


Lewis County gets 200-300" of snow annually--that's up to 25 feet. Hundreds of miles of groomed trails are cut through it every winter, making Lewis County an ideal place for snowmobilers.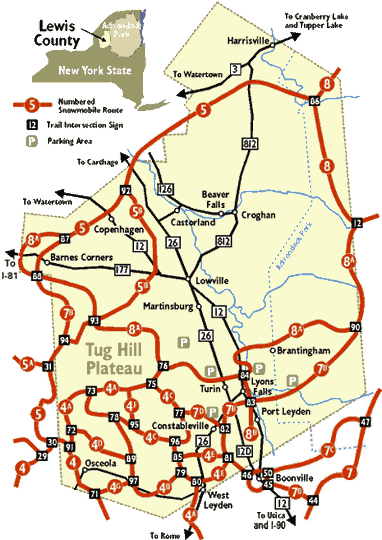 SNOWMOBILE TRAILS IN NEW YORK STATE
New York State has designated carefully surveyed trails within the State Forest Preserve, State Parks for snowmobile use. As sportsmen, it is important that snowmobilers recognize their responsibility for preserving the wildness and beauty of the land their vehicles enable them to enjoy.
The following trail information has been generously furnished by the New York State Department of Environmental Conservation, in conjunction with the St. Lawrence County Forestry Department and the St. Lawrence County Youth Bureau.
Please refer to "Snowmobiling in New York State", published by DEC, for specific laws and regulations governing the use of snowmobiles on state land.

Snowmobile Clubs

Lewis County Area Snowmobile Association, Inc. Scott Matthews, President RR1 Box 258 Spencer Road Boonville, NY 13309 (315) 942-3149

Barnes Corners SnoPals, Inc., Janice Hodkinson, Rt. 1 Box 120T, Copenhagen, NY 13626, (315) 688-4645
Brantingham Snomads Club, Don Sawyer, Box 162, 77 North Shore Road, Brantingham, NY 13312, (315) 348-6787
Club Timberview, John Degaurdia, Timberview Lodge, Carpenter Rd., Turin, NY 13473, (315) 348-8400
Flat Track Riders Inc., Scott Matthews, RR1 Box 258 Spencer Rd., Boonville, NY 13309, (315) 942-3149 or e-mail: witchwey@aol.com
Long Pond Snow Sled Club, Jim Seymour, Pitcairn Rd., Harrisville, NY 13648, (315) 543-2411
Lost Trails Snowmobile Club, Andy Seelman, Boonville, NY 13309, (315) 942-6906
Missing Link Snowmobile Club, Richard Lajoie, PO Box 844, Carthage, NY 13619, (315) 212-0039 or e-mail: rlajoie@twcny.rr.com
Osceola Snowmobile Club, Inc., Larry Priest, PO Box 151, Redfield, NY 13437, (315) 599-6129
Runaway Snowmobile Club, Rose Lachausse, RD 1, Croghan, NY 13327, (315) 346-6065
Southern Tug Hill Snow Riders, Jim Allen, PO Box 424, West Leyden, NY 13489, (315) 942-2565
United Trails, Gordon Yancey, Flat Rock Inn, PO Box 22 Flat Rock Rd., Lowville, NY 13367, (315) 376-2332
Valley Snow Travelers, Martin Beyer, Rt.1 Box 14M, Lowville, NY 13367, (315) 376-2252
Snowmobiling Information Center

Adirondacks.com assumes no liability or responsibility for trail conditions or the use of these maps.
Please consult the New York State DEC for updated trail descriptions and conditions.