The premier guide to Ice Climbing in the Adirondacks
featuring valuable tips and techniques and essential
backcountry information.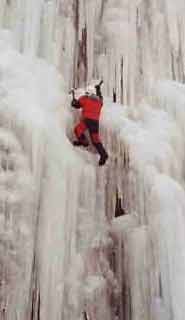 There is no better place in the United States than the Adirondacks to learn the craft of ice climbing . The Adirondack High Peaks region is blessed with an abundance of reliable roadside ice climbs. The most popular locations are concentrated in the Chapel Pond area along Route 73 south of Keene Valley or in the Cascade Lakes corridor between Keene and Lake Placid even though the entire Adirondack Park is littered with ice-covered outcrops.



Ice Climbing, as the term indicates, is the activity of ascending inclined ice formations. Usually, though, ice climbing refers to roped and protected climbing of features such as icefalls, frozen waterfalls, and cliffs and rock slabs covered with ice refrozen from flows of water. Ice climbing is broadly divided into two spheres, alpine ice and water ice. Alpine ice is found in a mountain environment, usually requires an approach to reach, and is often climbed in an attempt to summit a mountain. Water ice usually found in cliff or other outcroppings beneath water flows. Alpine ice is frozen precipitation whereas water ice is a frozen liquid flow of water. Both types of Ice are incredibly variable under different conditions. Ice can be soft, hard, brittle or tough.

Depending on the slope and texture of the ice, different equipment and techniques can be employed by the climber. For example, on flat ice, almost any good hiking or mountaineering boot will usually suffice, but for serious ice climbing double plastic mountaineering boots (or their older stiff leather equivalent) are usually used, which must be crampon compatible and stiff enough to support the climber and maintain ankle support. On short, low angled slopes, one can use an ice axe to chop steps. For longer and steeper slopes or glacier travel, crampons are mandatory for a safe climb. Vertical ice climbing is done with crampons and ice axes (those specific to vertical ice generally being called ice tools); the climber kicks his legs to engage the front points of the crampons in the ice, and then swings the axe into the ice above his head. This technique is known as front pointing. The strength of the ice is often surprising; even if the axe only goes in a centimeter or so it is enough to pull up on. If the climber is leading, he will need to place ice screws as protection on his way up (see climbing system).Most mountaineers would only consider the last scenario true ice climbing; the less steep variations are routine aspects of winter mountaineering.
source- Wikipedia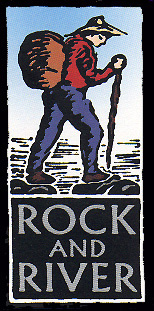 Adirondack Rock & River Guide Service, Inc.
P. O. Box 219 Keene, NY 12942 Phone: 518-576-2041
email: Ed@RockAndRiver.com
We are the only AMGA accredited, full service guiding establishment based soley out of the Adirondack Park. With two newly renovated lodges located in a secluded mountain valley (open to the general public as well as guided clients), we offer courses, private guiding and group instruction in the disciplines of rock climbing, ice climbing winter mountaineering, and hiking year round. Our relaxed, friendly atmosphere combined with wilderness location makes for a truly unique learning experience!

Calendar of Events |  Vacation Rentals |  Real Estate |  Lodging & Accomodations
Dining |  Summer Sports |  Winter Sports |  Arts & Crafts |  Attractions |  Shopping
Adirondack Kids |  Adirondack Lifestyles |  Business Profiles |  Business Directory |  Classifieds
Meet Our Sponsors |  Adirondack History |  Chat Room |  Return Home
BACK TO THE TOP


43 Broadway
Saranac Lake, New York 12983
Phone: 518-891-3745    Fax: 518-891-3768
E-Mail: Adirondacks.com

This website is owned and operated by
adirondacks.com internet publishing group.
For advertising and editorial content,
please contact Rob Grant;
adirondacks.com reserves the right to reject,
modify or cancel any advertising at its sole discretion.
© Adirondacks.com - all rights reserved
New York State & Vermont
Travel Guide Network
We invite you to visit one of the largest and most comprehensive award winning travel networks in New York State
& neighboring Vermont .
Choose your visitor guide by clicking on any one of the links below!
Adirondacks.com | AdirondackRealEstate.com | AdirondackRentals.com |GlensFalls.com | LakePlacidNY.com | SaranacLakeNewYork.com | Saratoga-NewYork.com | Upstate-NewYork.com | LakeChamplainValley.com | Burlington-Vermont.com | ThousandIslandsNewYork.com | MaloneNY.com | NorthCreekNY.com | WestportNewYork.com | CliftonParkNewYork.com |
Albany-New-York.com | Troy-NewYork.com | Utica-NewYork.com | Rome-NewYork.com | WarrensburgNewYork.com | Potsdam-NewYork.com | AdirondackHighPeaks.com | Canton-NewYork.com | Massena-NewYork.com | Plattsburgh-NewYork.com | LakePlacid-NewYork.com | GlensFalls.net | SchroonLakeNewYork.com | KeeneNY.com | KeeneValleyNY.com | ChestertownNY.com | GlensFallsNY.com | TiconderogaNewYork.com | TheChamplainValley.com | Champlain-Valley.com | ChamplainValleyRegion.com |
ChamplainValley.net | SaratogaSpringsRegion.com | Watertown-NewYork.com |
SaranacLakeNY.com | HighPeaksWilderness.com | VisitUpStateNewYork.com | VermontTravelGuides.com | Burlington-Vermont.com | StAlbans-Vermont.com | Rutland-Vermont.com | Middlebury-Vermont.com | Montpelier-Vermont.com |
Bennington-Vermont.com | Brattleboro-Vermont.com | NewYorkSkiing.com |
New YorkHiking.com | AdirondackHiking.com | AdirondackFishing.com |
AdirondackCamping.com | AdirondackSkiing.com | LakePlacidSports.com | LakePlacidSkiing.com | SaratogaSpringsRegion.com | SaratogaInns.com
| SaratogaHotels.com | SaratogaAttractions.com | SaratogaSpringsDining.com |
SaratogaSpringsLodging.com | SaratogaSpringsRestaurants.com |
SaratogaDirectory.Com | LakePlacidNY.com | LakePlacidHotels.com |
LakePlacidShopping.com | LakePlacidRestaurants.com | LakePlacidInns.com |
LakePlacidDining.com | LakePlacidResorts.com | LakePlacidSports.com | LakePlacidSkiing.com | LakePlacidHockey.com | LakePlacidSchools.com | OldForge-NewYork.com | AdirondackRestaurants.com
AdirondackWeddings.com | AdirondackCamping.com | AdirondackFishing.com |
AdirondackShopping.com | AdirondackLodging.com | AdirondackHotels.com
| AdirondackDining.com | AdirondackSkiing.com | AdirondackWeather.com
| AdirondackCrafts.com | VillageofLakeGeorge.com | DiscoverLakeGeorge.com |
Lake-George-NewYork.com | LakeGeorgeClassifieds
We also invite you to visit our comprehensive network of Florida Travel Web Sites:
Florida Visitor Guides.com

www.Daytona Visitor Guide.com
www.Daytona Travel Guide.com
www.Daytona Beach Visitor Guide.com
www.Visit Daytona Florida.com
www.New Smyrna Beach Guide.com
www.New Smyrna Hotels.com
www.New Smyrna Rentals.com
www.New Smyrna Beach Lodging.com
www.New Smyrna Beach Restaurants.com
www.New Smyrna Beach Dining.com
www.New Smyrna Beach Shopping.com
www.New Smyrna Beach Weather.com
www.New Smyrna Florida.com
www.New-Smyrna-Beach-Florida.com
Anna Maria Island Guide.com
Anna Maria FL.com
Anna-Maria-Island-Florida.com
Anna-Maria-Island-Rentals.com
Anna-Maria-Island-Real-Estate.com
Anna Maria MLS.com
Anna Maria Island Beach Rentals.com
Anna Maria Island Photos.com
Anna Maria Property.com
Anna Maria Island MLS.com
Anna Maria Island Real Estate Agents.com