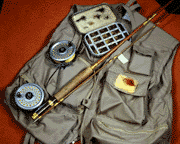 Get the inside scoop on the best places to go fishing,
where to stay, who the local experts are and where to buy the best equipment!

P.S. If you've got a secret spot you'd like to share, let us know.
If you want to keep it a secret, we understand.

Fisherman, Hunters & Hikers Notice
16 Things to remember! (Humourous) - By Joe Hackett
The Ghostly Fisherman
By Fran Betters
Early Morning Summer Fishing
By Fran Betters
TOO MUCH
By Fran Betters
Sal's Pool
By Fran Betters
Have a Fishing Story you like to submit?
Please send us an email and we will do our best to put it here.


43 Broadway
Saranac Lake, New York 12983
Phone: 518-891-3745    Fax: 518-891-3768
E-Mail: Adirondacks.com

This website is owned and operated by
adirondacks.com internet publishing group.
For advertising and editorial content,
please contact Rob Grant;
adirondacks.com reserves the right to reject,
modify or cancel any advertising at its sole discretion.
© Adirondacks.com - all rights reserved