FEATURED LISTINGS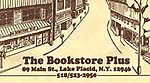 Bookstore Plus
89 Main Street Lake Placid NY 12946 518-523-2950 Web site: Located in the heart of the Adirondack Mountains, The Bookstore Plus is an independent Booksense™ Bookstore. For over 25 years we have taken great pride in providing not only the latest best sellers, but a wide array of artist, office, stationery, and music supplies as well. We are your hometown bookstore and so much more!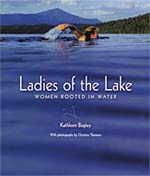 Ladies of the Lake
by Kathleen Bagley
Ladies of the Lake offers a rare glimpse into the engaging lives of women who are rooted in water. This book is for anyone who visits or appreciates Lake Placid and the Adirondack area and has an interest in the region's rich culture and history. It also appeals to women, and men, who spend time on the water anywhere; to lovers of the changing seasons; to armchair enthusiasts who have never visited the area; and to anyone who wonders or delights in the serendipitous and inspiring lives of women everywhere. Visit www.kathleenbagley.com for more details.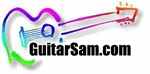 Play it Again Sam
66 Main St...Montpelier VT 05602 Phone 800.472.SAMS...Fax 802.229.0755
Musically correct selection of electric and acoustic guitars, amplifiers, keyboards, percussion, and accessories. We are an authorized dealer for Fender, Peavey, Ovation, Tacoma, Deering, Goodtime, Epiphone, Washburn, Weber, Tech 21, Dimarzio, Rhythm-Tech, AKAI guitar effects, SansAmp, Digitech, DOD, Alesis, Mackie, Shure, Tascam, and more! GuitarSam also carries Left Handed Guitars!



E Pierce - 104 Margaret St. 518-563-3844
Adirondack Musical Instruments & Repair - PO Box 84
Adirondack Piano Service - Forest Home Rd. 518-891-2252
Allen Lucy Piano Service - 19 Catherine Drive 802-775-8004
Ampersound - 8 Woodruff 518-891-3114
Audio-Vision - 37 Main 518-523-3494
Barnes and Noble Booksellers - 102 Dorset, S. Burlington, Vt 05401, 802-864-8001
Be Music - 162 Woodstock Avenue 802-775-4030
Bear Pond Book Store - Main St, Stowe VT 05672, 802-253-8236
Blessings Bookshop - 9 Main St, Essex Junction, Vt 802-878-8845
Bob's Music Supply - 32 Plattsburgh Plaza Plattsburgh NY 12901 518-561-5656
Bookstore Plus, The - 89 Main St. 518-523-2950
Borders Books Music & Cafe - 29 Church St 802-865-2711
Broadway Video - 30 Woodruff / 518-891-5680
Brown's River Bindery Inc. - One Allen Martin Dr, Essex, VT 05451, 802-878-3335
Buch Spieler - MUSIC of all kinds from around the world for all kinds of people on Compact Disc. Wild, weird, wacky, wicked, witty & just plain funny CARDS.
Calliope Music - musical instruments, Burlington, VT
Carter's Piano Tuning & Service - 154 Lake Road 802-893-0703
Christian Book Store - 10 Country Rd, Bennington, VT 05201, 800-447-0198
Christian Science ReadingRoom - 196 Pearl St, Burlington, Vt 05401, 802-864-4709
Coconuts Music & Video - 861 Williston Rd, S. Burlington, VT 05401, 802-865-1745
Comics Outpost - 27 Granite St, Barre VT 05641, (802)476-4553
Corner-Stone Bookshop - 110 Margaret St.
Crow Bookshop - 14 Church St, Burlington, Vt 05401, 802-862-0848
Daily News - 125 College Street Burlington VT 05401 802-863-2236
Day Allen H Piano Service - 8 Lincoln Road 802-879-4338
Deer Leap Books - 25 main Street 802-453-5684
Disc Go Round - 198 College St , Burlington, VT 05401, 802-660-8150
Discover Writing - Books and Tapes to help Teachers and Students
Dove Music Enterprises - Basin Harbor Rd, Ferrisburg, VT 05456, 802-475-2126
Everyday Bookshop Inc - 194 College, Burlington, Vt 05401, 802-862-5191
Flying Pig Children's Books - Ferry Rd, Charlotte, VT 05445, 802-425-2600
Fraser Publishing - 309 Willard, Burlington, Vt 05401, 877-996-3336
Grandma's Book Attic - 1195 Gilbert Road (802)479-3359
Hansen & Son Inc - PO Box 571 800-894-2066
Hilbert Pianos - 40 Pleasant Street 802-453-3743
Holiday Crafts/J/C Video - PO Box 744
Hopkins Bookshop - 2 Cherry St, Burlington, Vt 802-658-6223
Inner Traditions - Founded in 1975, Inner Traditions is a leading publisher of books on indigenous cultures, perennial philosophy, visionary art, spiritual traditions of East and West, sexuality, holistic health.
Inner Traditions International - We're a leading publisher of books on indigenous cultures, perennial philosophy, visionary art, spiritual traditions of East and West, sexuality, holistic health, healing and self-development.
Keene Valley Bookstore - Route 73 518-576-4736
Khemraj Shrikrishnadass(Estd1871) - The oldest Publishers of Indological (Religious)Books in India.
KIDZUP Store - Where buying gifts, audio products, software, compact discs,cassettes, CDroms is made easy.
Kilroy's Audio & Video Center - 91 Park / 518-359-2205
Lake Placid Video - 334 Main St. 518-523-3000
Lakes Region Youth Orchestra - 3351 Route 155 802-259-2899
Living World Bookstore - 9 Finney Blvd Malone NY 12953 518-483-0400
Lowell Pianos - 909 Pleasant Street 802-438-5279
Maven Peal Instruments - Maven Peal offers the only guitar amplifiers in the world with a new patented power supply design, that gives guitarists control over authentic power amp distortion.
Metropolitan Music Company - We offer a full line of stringed instruments, cases, accessories, tonewoods and parts are primarily of European origin and available through our general retail catalog.
New England Book Service Inc - 1037 Prindle Road Charlotte, VT 05445, 802-425-3841
Northeast One Stop - Grand Isle, VT 05458 802-372-5793
Northshire Bookstore - Manchester Center, Vermont. Quality and breadth of new & used books. Known for Vermont books & products, children's books, gifts, stationery, music & collectible vinyl.
Peacock Music - on-Line Ordering: Compact Discs
Peter Riley - 14 Cindy Lane 802-879-6980
Play It Again Sam - Guitars, banjos, mandolins, keyboards, drums, amplifiers, recording, other musical instruments and accessories. Repairs, layaways, trade-ins. 66 Main St. Montpelier 800-472-7267
Pure Pop Records - 115 S. Winooski Ave , Burlington, VT 05401, 802-658-2652
Reader's Window - The totally unique Reader's Window® holds books for uplifted and alert reading. Read in your favorite chair with a book held at eye-level, or in bed --- with a book suspended overhead!
Rebel's Video & Collectibles - 46 Pine / 518-359-8165
Record Town - Burlington Square Mall , Burlington, VT 05401, 802-658-1375
Record Town Saturday Matinee - University Mall , S. Burlington, VT 05401, 802-865-2163
Robby's Piano Shop Inc. - 93 Gautier Drive 802-527-7405
Robert Hartenstein - 69 Allen Street 802-773-8469
Royal Discount Bookstores - Champlain Center North Plattsburgh NY 12901 518-562-0343
Running Dog Guitars - Each instrument is built to exacting standards for tone, beauty, and longevity.
Scholastic Book Fairs - 1 Green Tree Dr, S. Burlington, VT 05401, 802-859-9364
Sound Essentials - High Performance Home Theatre & Audio Systems
Sound Vision Audio Visual-Svav Inc - 277 Pine Street 800-547-4343
St. Agnes Book Store - 6 Hillbrest Ave. 518-523-8265
Storey Communications, Inc. - Storey Communications, Inc. is a Vermont-based publishing company with headquarters in Pownal, Vermont and offices in Williamstown, Massachusetts. The company specializes in book publishing.
Storey Publishing's Online Bookstore - books
Sunreed Instruments - Welcome to the pages of Sunreed Instruments, a small Vermont fine craft studio, offering you a wide variety of quality hand made bamboo flutes, shakuhachi, bamboo saxophones and clarinets.
Tenebaum Lucy Allen Vocal Studio - 19 Catherine Drive 802-775-8004
The Alley Beat - 8 Mill Middlebury, VT 05753, 802-388-2743
The Book Keeper - 141 Knight Ln, Williston, VT 05495, 802-872-9545
The Book Rack and Children's Pages - Champlain Mill, Winooski, Vt 05495, 802-655-0231
The Cabin By The Creek - A writing of fiction intended to refresh an adult's mind to awaken its memories from the past - that being, the simple forms of country life , perhaps, a few of us had experienced.
The Music Shop - 77 Margaret Street Plattsburgh Ny 12901 518-563-5097
The Old Box Call - The Old Box Call was written and dedicated to Neil "Gobble" Cost for his world renowned turkey calls, now available for your listening pleasure.
The Sound Barrier - 52 Center St., Rutland, VT 05701, 802-775-4754
Trillenium Music Company - Welcome to our on-line catalog of beautiful sheet music, which is always complete and up-to-date. We're located in Vermont's beautiful Green Mountains.
True North Guitars - Two hands one Heart.
Tuttle Antiquarian Books Inc - 28 S. Main St, Rutland, Vt 05701, 802-773-8229
Vermont Church Supply & Christian Bookstore - 676 Pine St, Burlington, VT 05401, 802-862-6486
Vermont Harps - I build fine hand crafted Folk Harps in a variety of styles. These wire strung harps are made from Oak, Maple, Walnut, or Cherry, with a strong Aircraft Birch sound board.
Vermont Only of Mile Square Farm Inc - Mile Square Farm 802-888/868-6659
Video 2000 - The Future of dvd is Here
Video Plus - 53 Sentinel Rd. /518-523-1149
Video World - 205 Lake Flower Ave.
Vinyl Destination - 200 Main St., Burlington, VT 05401, 802-862-5363
West Side Comics - 102 1/2 Forest, Rutland, VT 05701, 800-710-9539
With Pipe and Book - 91 Main St. 518-523-9096
Wonder Cards & Comics - 445 Route 302, Barre VT 05641, (802)476-4706
Yankee Paperback Exchange - 11 Langdon, Montpelier VT 05602, (802)223-3239