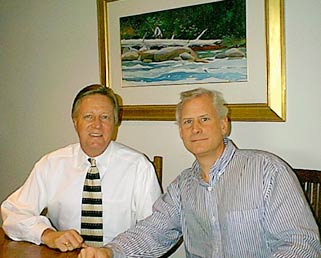 Paul Smith's College Pres. George Miller (left)
and Rob Grant Pres. Adirondacks.com
Paul Smith's College Receives
Internet Gift From Rob Grant


PAUL SMITHS - Paul Smith's College announced today that they have received a significant gift in the form of educational domain names designed to drive Internet traffic to their PaulSmiths.edu web site.
The gift was made by Rob Grant of Rob Grant & Associates in Saranac Lake.
Mr. Grant has worked closely with the college since 1999 exploring and developing a unique online network of educational web sites through his internet consulting firm Adirondacks.com
"These Internet domains are extremely powerful and very intuitive," said Mr. Grant. "They represent important generic industry brands in various academic fields that are the focus of the Paul Smiths curriculum." These domain names include the following:
www.LandManagement.com, www.EnvironmentalStudies.com, www.EnvironmentalSchools.com
According to a recent survey conducted by the nations largest educational directory "Peterson's Educational Guide", over 35% of all U.S. students actively used the Internet to search for schools and apply online. Consulting firm CollegeNet estimates that over 50% of all international students search for schools and apply directly online. As the Internet has continued to grow worldwide, online admissions has become an essential tool for any school hoping to compete globally for prospective applicants. For an organization like Paul Smiths college, controlling such important educational domains means that Paul Smiths now becomes the electronic destination for any student anywhere in the world who conducts a search by typing in any one of these URL's.
As Paul Smiths continues to grow and expand from a 2-year college to a 4-year institution, its goal is to raise enrollment from 800 students currently to over 1,100 students by the year 2005. In order to accomplish such an ambitious task the internet will play an increasingly pivotal role as Paul Smiths competes with other academic institutions from around the globe to attract students to the Adirondacks.
Commenting on the recent gift to the college, Paul Smith president George Miller noted that "as the college's web presence continues to evolve, the addition of these valuable domains will enhance that presence in many significant ways. This gift will be used to direct prospective students and other interested parties to the colleges web site, thereby helping to increase enrollment and build awareness of our institution. Such a gift is deeply appreciated as we continue to seek better ways to serve our students as well as the greater Adirondack community." Mr. Miller also thanked Rob Grant for "his continuing support of our work at PSC and in making a difference in the future of Paul Smiths College".
Click here for The Paul Smiths College Website