Welcome to
North Country Public Radio/Adirondacks.com
Live 'On-line'
NEWS CENTER

weather.html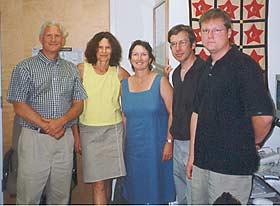 Rob Grant (left) Pres. Adirondacks.com with NCPR Station Manager Ellen Rocco, NCPR Membership Director Kathleen Fitzerald, On-line Outreach Dale Hobson, and NCPR Web Manager Bill Haenel, (right)
Preview the latest Regional News
from North Country Public Radio
Adirondack News from North Country Public Radio
(Real Audio format)


Adirondack Weather Station




Welcome to the largest online
Adirondack Weather Channel!


Background Information on NCPR and Adirondacks.com On-line Collaboration
Adirondacks.com and North Country Public Radio announce unique online collaboration
North Country Public Radio, the regions only public radio service reaching the entire North Country and www.Adirondacks.com, upstate New York's award winning web site announced an innovative new internet collaboration designed to extend NCPR's audience.
Rob Grant, president of Adirondacks.com commented "We are extremely excited about the opportunity to work with such a wonderful organization. North Country Public Radio has been the voice of the Adirondacks for so many years."
Adirondacks.com will create live links to NCPR's web site which provides web viewers with exciting live broadcasts, streaming music, rich local programming and regional news headlines. NCPR has been recognized for its award winning news coverage and unique regional programming including such favorites as "String Fever", "The Blue Note", "Radio Bob Rhythm & Blues" and "The Folk Show".
Additionally, NCPR provides North Country listeners with nationally syndicated news and programming from National Public Radio featuring a wide variety of shows including "Morning Edition", "The Connection", "To The Best Of Our Knowledge", "Living On Earth", "Science Friday", "Thistle & Shamrock" and the hugely popular "Car Talk".
"We are delighted with this online collaboration," said Ellen Rocco, NCPR's station manager. "Adirondacks.com has become one of the most significant web resources for the region and the North Country community".

"It would be very hard to imagine the Adirondacks without North Country Public Radio." commented Grant. "Not only is NCPR the voice of the Adirondacks… For many people, it is the very heart and soul of the region".
North Country Public Radio joins Adirondacks.com's growing network of non-profit Internet Partners including Paul Smiths College, Lake Placid Center for the Arts, Adirondack Architectural Heritage (ARCH), The Adirondack Park Visitors Interpretive Centers in Newcomb & Paul Smiths and numerous other important organizations serving the North Country.

Link to NCPR website
Link to Adirondacks.com
Contact Information:
North Country Public Radio
Ellen Rocco – Station Manager
Canton, NY 13617
315-229-5356
Email: ellen@ncpr.org
Adirondacks.com
Rob Grant
52 Broadway
Saranac Lake, NY 12983
518-891-3745
Email: arts@adirondacks.com