Fall is the perfect time to explore the byways of Warren County.
Don't be surprised to find a rustic farm stand or a charming country store with apples, pumpkins, squash and other fall fare tucked along the side of a winding back road.
Prospect Mt. Veterans Memorial Highway &
100-Mile View
Spectacular views of Vermont's Green Mountains, New Hampshire's White Mountains, New York's Adirondack High Peaks and, on a very clear day, the Laurentians of Canada. View of Lake George Village is backdropped by Black Forest Range. From the parking lot you can take a continuously running "viewmobile" to the summit for more spectacular views. You can also see remains of the world's largest cable railroad and the fireplace of once-thriving Prospect Mt. Hotel.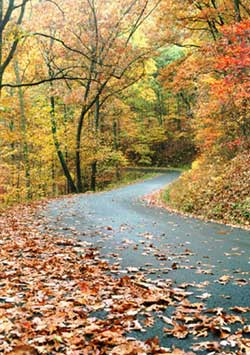 Route: 1-87 Exit 21, 1 mile north on Route 9, left at state highway entrance. 100-mile view from 2,021' summit. A 5-1/2 mile 2-lane highway leads to parking lot. Large picnic areas at parking lot and summit. Open daily Memorial Day to late October.
Driving Time: 10 minutes one way to parking lot.
Prospect Mountain Hiking Trail: This red-marked 1-5/8 mile trail leads to summit of Prospect Mountain. To reach trail from Lake George Village, turn west on Montcalm Street (away from lake) to Smith Street; turn south 1/2 block to trailhead sign. Trail crosses 1-87 on elevated walkway. The climb to the summit is not difficult. One part of the trail follows the road bed of an old funicular railway that served a once-thriving summer hotel on the mountain. Remains of both the mountain and the railroad still exist.

Warrensburg to Indian Lake on Route 28
1-87 Exit 23, north on Route 9 through Warrensburg to the junction of Routes 9 and 28. Head northwest on Route 28, over Hudson River, through Weavertown and North Creek (Gore Mt. Ski Area), driving along Hudson River to North River. You can enjoy several overlooks and villages en route. Continuing on Route 28, leave Warren County and drive upward through Siamese Ponds Wilderness Region to picturesque Indian Lake, passing Lake Adirondack and Lake Abanake. Turn left at sign to Sabael (Route 30). Drive a few miles to state overlook rest area. Then retrace your steps.
Driving Time: 1-1/4 hours one way.
SAVE UP TO 50% ON HOTELS IN LAKE GEORGE

Lake George to Hague on Route 9N
1-87 Exit 22 to Route 9N north. Drive along Lake George shoreline through Diamond Point and Bolton Landing. Turn right at Bolton Library (Veterans Memorial Park Drive) for spectacular dockside lake scenery. Continue north on Route 9N over Tongue Mt. to Silver Bay; stop at state overlook for another grand view. Continue north to Hague and stop at Town Park. Return by retracing steps or by using Route 8 Brant Lake to Hague trip, only in reverse.
Driving Time: 1 hour one way plus stops.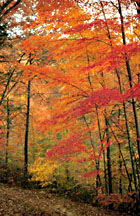 Brant Lake to Hague on Route 8
I-87 Exit 25, east on Route 8 to Brant Lake. Drive along Brant Lake shore line. Continue on Route 8 through Pharaoh Wilderness and Dixon Forest After hamlet of Graphite, a short and curvy drive downhill leads into village of Hague. Turn right to Town Park and views of Lake George Retrace steps westward for spectacular views of the Adirondack High Peaks, or use Lake George to Hague trip on Route 9N, only in reverse.
Driving Time: 1 hour one way plus stops.
SAVE UP TO 50% ON HOTELS IN LAKE PLACID

Lake George To Chestertown on Route 9
I-87 Exit 23, north on Route 9 through Warrensburg to Chestertown about 7 miles past junction of Routes 9 & 28). You will enjoy beautiful forest scenery an the way. Stop in Chestertown to explore this quaint and charming village. At the junction of Route 8, turn left on Routes 8/9; stay on Route 9 around picturesque Loon Lake. Continue toward Pottersville and 1-87 Exit 26.
Driving Time: 3/4 hour one way plus stops.

Olympic: Tour & High Falls Gorge
Lake George to Lake Placid
I-87 Exit 30, west on Route 73 through Keene Valley and Keene, into the Adirondack High Peaks, cutting through Cascade Pass to Lake Placid. Enjoy the Olympic Tour (Intervale Ski Jump Complex, Olympic Arenas, Mt. Van Hoevenberg Luge Complex, Whiteface Mt. Chairlift Veterans Memorial Highway) and the new Lake Placid Winter Olympic Museum, celebrating the 1932 and 1980 Winter Olympics.
There is a tour Package available mid-June through mid-October, or you can guide yourself year round, weather permitting. Contact ORDA (Olympic Regional Development Authority) at 1-800-462-6236 (N.Y) or 518-523-1655 information. From Lake Placid turn north on Route 86 to Whiteface Mt. and Wilmington, driving along West Branch of Ausable River to High Falls Gorge. View the ancient valley of foaming waters, carved by forces of ice, water and wind. 600 foot cascading waterfall. Self guided tour. Gift shop Open daily June-October.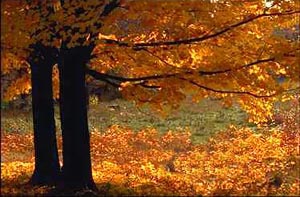 HIGH PEAKS EXPERIENCE From Saratoga Springs
CAPITAL SARATOGA/ADIRONDACKS REGIONS
APPROXIMATELY 320 MILES

Come to the High Peaks Region and visit the Olympic training venues!
This trip will take you through an historic resort city with a lively social scene and on a high peaks journey that is startling in its beauty.
On your trip on the Northway (I-87), stop at Saratoga Springs (Exit 13N) and drive north on Route 9. Enter the Saratoga Spa State Park through the lovely, tree-lined Avenue of the Pines. In the park are the mineral baths and the Saratoga Performing Arts Center, summer home of the New York City Ballet, New York City Opera, the Philadelphia Orchestra and pop specials. Exit the park, turning right, on Route 50. Drive northeast to Union Avenue, and visit the Saratoga Race Course, the nation's oldest thoroughbred track, where sports lovers gather each summer from around the world to watch thoroughbreds race. (Racing season is late July through early September.)
Exit Saratoga Springs via Union Avenue to I-87 north. Take Exit 28 and Route 74 east to Fort Ticonderoga. This area is steeped in Revolutionary War history, with its fife and drum parades and canon and mortar drills.

The rugged beauty of the Ausable River is typical of the Adirondacks.
Follow Route 9N north to Crown Point, then on to Route 73 and into the Adirondacks. Throughout you will find turn-offs for wilderness hiking and fine accommodations for every taste. The journey on Route 73 has stunning beauty, with stark contrasts. This old carriage path is cut through the high peaks and imposing walls of rock. Drive by Cascade Lake and Chapel Pond, cross Johns Brook and pass several times over the Ausable River. Travel to Lake Placid, home of the 1932 and 1980 Winter Olympics and year-round training ground for world-class athletes. You can watch them practicing or try the facilities yourself. Beautiful and beautifully maintained Route 86, going northwest, leads through wilderness areas surrounding Saranac Lake. Take Route 3 through Tupper Lake to Blue Mountain Lake, home of the Adirondack Museum.
Return on Route 30 to Long Lake and head east on Route 28N through Newcomb, with its Adirondack Visitors Interpretive Center. Follow signs to North Hudson and the Adirondack Northway (I-87) south to Saratoga Springs.
Contact the Capital-Saratoga and Adirondack regional travel promotion agencies for more information.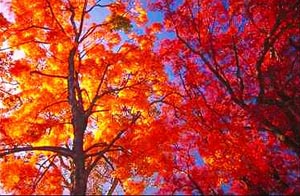 CENTRAL NEW YORK SCENIC DRIVE From Albany
CAPITAL SARATOGA/CENTRAL-LEATHERSTOCKING REGIONS
APPROXIMATELY 210 MILES

Explore the Central-Leatherstocking region, with its century-old family homesteads and unchanging bucolic scenery.

Howe Cavern's tour finishes with a quarter-mile underground boat ride.
From Albany, travel west on Route 20 to Route 7 to Howe Caverns for a boat ride on an underground lake and a tour of magnificent underground rock formations. A visit to the nearby Iroquois Indian Museum offers exhibits, art and nature trails. Go north on Route 145 to Route 20, west through the lovely Cherry Valley, then south on Route 80, which will take you along Lake Otsego and into Cooperstown. This village is home to the National Baseball Hall of Fame, the Farmers' Museum, the Fenimore House and much more.
The Glimmerglass Opera Theater is located nearby, just eight miles north of Cooperstown and two miles south of US Route 20. Situated in a meadow overlooking a reflecting pond, its barn-like exterior relates to the rural upstate setting.
Continue north on Route 80 to Route 20 west to Cazenovia, a charming town where you can visit the formal garden and arboretum at Lorenzo State Historic Site. Nearby is the Chittenango State Park, with its scenic waterfall. Take Route 20 east through the nationally known antique center between Bouckville and Madison to Route 12B north to Route 12 to Utica. On your way, stop at the Musical Museum in Deansboro, with its 17 rooms of antique musical nickelodeons, grind organs and music boxes.


Adirondack Log homes and Adirondack Log Furniture
Here you will find a wealth of information about Adirondack log cabin homes, log home floor plans, financing for log homes, construction tips on log homes, Adirondack custom log homes, log home photographs, and much, much more!

ADDITIONAL ADIRONDACK SCENIC DRIVES NOT TO BE MISSED
The following driving tours were graciously described to us by Barb and Frank Karl of Onchiota, New York
Paul Smiths to St. Regis Falls
Heading north on Rt. 30, in Paul Smiths, turn left on Keese Mill Rd. Keese Mill Rd. crosses the St. Regis river several times, and passes by the trailhead for Azure mountain. Approximately 5 miles into the ride the paved road turns into a well maintained gravel road. If a longer day is planned, the short hike up Azure mountain is beautiful at any time of the year, and breathtaking now. At the end of Keese Mill Rd., turn right on Rt. 458. This will take you to Rt. 30 near Meacham Lake. You can make a loop by following Rt. 30 back to Paul Smiths. This is unforgettable country!
Mileage: About 25 miles on Keese Mill Rd., then an additional 21 to return back to Paul Smiths.
Vermontville to Wilmington
Traveling north on Rt. 3, turn Right before the Franklin Town Hall onto Cold Brook Rd. After approximately 6 or 7 miles, turn right onto Lower Franklin Falls Rd. This will take you past Franklin Falls. You will link up with Rt. 431 after Franklin Falls, and this will take you into Wilmington. In Wilmington if you get on Rt. 86, you can follow this into Lake Placid then Saranac Lake and make a large loop. There are a variety of wonderful side trips on this route, including the drive up Whiteface, High Falls Gorge, and North Pole, NY.
Mileage: The round trip from Vermontville to Wilmington, then thru Placid and Saranac Lake back to Vermontville is approximately 45 miles. This does not include any of the side trips.
Vermontville to Duane Center
Traveling north on Rt. 3, turn left on County Rt. 26 (old Rt. 99). This road is in poor condition, but for the adventuresome, it is well worth the bumps. This will take you thru the idyllic town of Loon Lake. After Loon Lake, turn left on Rt. 27. Follow Rt. 27 to Rt. 30 in the town of Duane. This is a beautiful trip any time of the year.
Mileage: Approximately 14 miles from Rt. 3 to the turn off at Rt. 27, an additional 5 miles to the Town of Duane Center.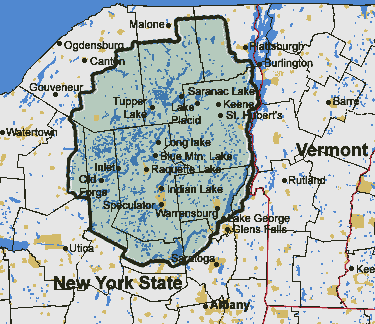 43 Broadway
Saranac Lake, New York 12983
Phone: 518-891-3745    Fax: 518-891-3768
E-Mail: Adirondacks.com

This website is owned and operated by
adirondacks.com internet publishing group.
For advertising and editorial content,
please contact Rob Grant;
adirondacks.com reserves the right to reject,
modify or cancel any advertising at its sole discretion.
© Adirondacks.com - all rights reserved